Ad blocker interference detected!
Wikia is a free-to-use site that makes money from advertising. We have a modified experience for viewers using ad blockers

Wikia is not accessible if you've made further modifications. Remove the custom ad blocker rule(s) and the page will load as expected.
Train of Thought is an Attention game in Lumosity.com.
It was released in 27/07/2013. The LPI of the game was launched in 18th December 2013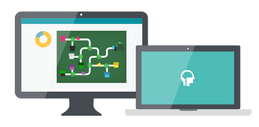 The object of the game is to switch the tracks to get the coloured train in the station of the appropriate color.
The game is organized into 14 levels, each corresponding with a uniquely colored train station, into which the player must guide the train. At the beginning of each level, the train leaves the "mountain tunnel", and emerges onto the track. From there, the player must flip a switch at each fork in the track in order to guide the train into the color-matched train station.
As you go higher, the number of trains you can manage goes higher and the trains come out of the tunnel faster.
The highest score reported is 90 trains.

Note: In the BETA version, carridges were included starting from Level 8, rather than multi-coloured trains
| Level | Train Color |
| --- | --- |
| 1 | - |
| 2 | - |
| 3 | Green |
| 4 | Yellow |
| 5 | Blue |
| 6 | Purple |
| 7 | White |
| 8 | Green and Black |
| 9 | Pink and White |
| 10 | Blue and Black |
| 11 | Green and Pink |
| 12 | Yellow and Black |
| 13 | Blue and Pink |
| 14 | Purple and Yellow |