Ad blocker interference detected!
Wikia is a free-to-use site that makes money from advertising. We have a modified experience for viewers using ad blockers

Wikia is not accessible if you've made further modifications. Remove the custom ad blocker rule(s) and the page will load as expected.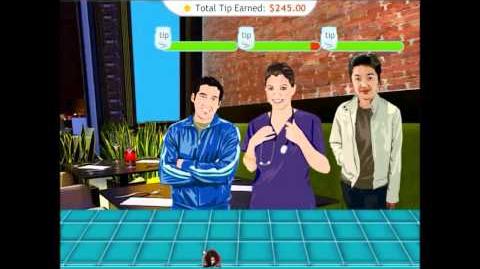 Familiar Faces is a game in which you must remember the names and orders of patrons at a restaurant.
"Remember your customers' names and orders to win tips and job promotions."
Familiar Faces



Game Type:

Memory
How To Play
Edit
You begin with a patron arriving, the option to either ask their name, or type it in the text box. Every character has a unique name (there are 40 male and 30 female characters), and if it is your first encounter with them, you likely don't know it. However, asking them will prevent the tip bar from reaching maximum as will entering a wrong name. The patron will then order something. More patrons may appear, and you will have to enter their names as well. As they order food, their orders will appear below. You will have to drag the correct order to the correct patron to earn maximum tips. Dragging incorrect orders will decrease your tip.
After Level 2, extra orders will be brought out, and you will have to throw them away.
Alphabetical list of customers
Edit
| Picture | Name |
| --- | --- |
| | Aimee |
| | Alesia |
| | Alice |
| | Allison |
| | Ari |
| | Arthur |
| | Barbara |
| | Brian |
| | Carry |
| | Charles |
| | Chris |
| | Craig |
| | Darren |
| | David |
| | Doris |
| | Dylin |
| | Eko |
| | Elizabeth |
| | Elvis |
| | Emily |
| | Eric |
| | Frank |
| | Gary |
| | Gregory |
| | Heather |
| | James |
| | Jennifer |
| | Jessie |
| | John |
| | Josh |
| | Julie |
| | Julius |
| | Kelly |
| | Kenneth |
| | Kimberly |
| | Kirk |
| | Kristy |
| | Kunal |
| | Laura |
| | Linda |
| | Maria |
| | Maribel |
| | Mark |
| | Martin |
| | Mary |
| | Mason |
| | Matt |
| | Max |
| | Michael |
| | Noel |
| | Nolan |
| | Patricia |
| | Phil |
| | Polly |
| | Richard |
| | Robert |
| | Romain |
| | Roxanne |
| | Ryan |
| | Sam |
| | Sandie |
| | Sean |
| | Stella |
| | Susan |
| | Ted |
| | Theodore |
| | Thompson |
| | Tyler |
| | Willa |
| | William |